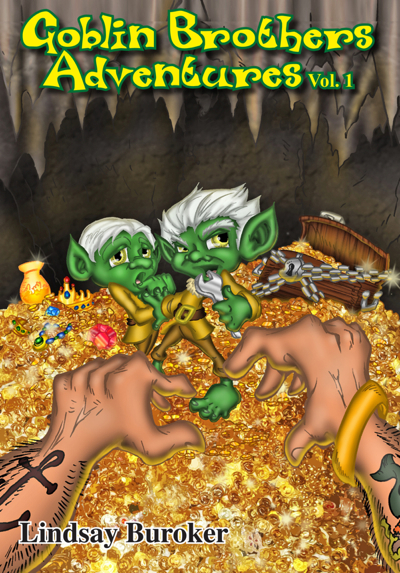 Lindsay Buroker's
Goblin Brothers Adventures Vol. 1
was self-published, Dec 2010.
Tell us about your book. What is it about and where will it be available?
This collection of short stories features a pair of adventurous goblins, Malagach and Gortok, who want nothing more than to be heroes. Well, Gortok also wants new tools, a bag of honey-crunch spider legs, and a tour of a working steam engine. But being a hero would be good too!
For now, the stories are available as an ebook, which you can find online at
Amazon
,
Barnes and Noble
, and
Smashwords
(Smashwords is a big indie ebook outlet, and they have formats for every ebook reader out there, so Ipad, Sony, Kobo, etc. folks can download the stories too). If there's interest, I'll look into making a print copy available, but you won't be able to beat the $0.99 price tag for the ebook!
What were your inspirations for your book? What sorts of thing inspire you as a writer in general?
The Shrek movies were a big inspiration for these characters. I wanted to tell a fun story with atypical heroes that young readers would enjoy. At the same time, I wanted some humor for older readers (also known as grownups), so I poke a little fun at the Dungeons & Dragons/Tolkien-inspired fantasy I grew up reading (much the way Shrek pokes fun at fairy tales).
As for what inspires me as a writer in general, I just love the characters that populate my mind (more people than you'd think there'd be room for in there), and I want to share their words and adventures with others.
Let's talk about your process. How do you approach a story, do you start with outlines or something else? Where did you work when writing your book? Do you think it was the optimal writing environment for you?
Outlines? Hm, I remember doing these in school....
I believe I'm called a seat-of-the-pants writer (AKA a pantser). I get an idea, mull it over a bit, figure out the ending, then get started.
If I know how the story ends, I'll find a road to get there. I've learned, thanks to a lot of half-finished projects, not to start things when I don't know how they'll end.
As for where I write, anywhere. Laptop at the coffee shop or with pen and paper in front of the TV. I'm not fussy.
I usually plot things in my head while I'm at the gym or walking the dogs, and that way I have a good idea of what happens next when I sit down to write.
Tell us about your "story of getting published."
Well, since I decided to publish myself, there's not much of a story here. I've watched some writer buddies make it (insofar as getting an agent and a publisher), and I'm very excited for them, but I'm not sure I have the patience for the process.
For me, it was about a month from thinking, "Hey, it's time to try e-publishing!" to "Cool, my ebook is up on Amazon and Barnes & Noble." That included editing, cover design, and formatting (otherwise I could have had it up over night!).
I figure, if the Goblin Brothers stories do well (I'm planning a whole series of novels with these characters), I can approach an agent later.
What are the publicity plans you have coming up?
I'm busy turning more novels and stories into ebooks and finishing up the first Goblin Brothers novel, so I'm just planning to do a little bit here and there when it comes to marketing.
My main goal is to get links back to my two sites, so I'll try to find some guest blogging gigs and publish some articles around the web (not to mention hitting up those kindly folks who are willing to interview authors and let them promote their work *smile*).
You can follow my progress on
my website
. And you can read some of the Goblin Brothers stories for free on the
Goblin Brothers website
.