Third stop on the 2011 Immortal Blog Tour.
If you've been a reader of Writing Insight for awhile then Gene Doucette is a familiar face. He was featured as a
Blooming Author back in July 2010
before
Immortal
was published. We're excited to report that a lot has happened since then. This article is an attempt to give you a "best of" on the press for Immortal prior to this April blog tour so that you are set up to really enjoy getting to know Gene and his book - and be as excited as we are to hear that
Immortal
will have a sequel coming out soon!
Something that many find hard is trying to pigeonhole
Immortal
into a particular genre. In
Spencer Seidel's review
he says, "Technically, I suppose the "correct" genre is speculative fiction, but I'm still not sure how I feel about that genre. Like the thriller genre, it's probably too vague to be meaningful. So forget the genre. Here's a description I like: Immortal is like Men in Black meets The Hitchhiker's Guide to the Galaxy meets Odd Thomas. Yes, really." Gene also likes to quote Jonathan Vos Post, "A sui generis Urban Fantasy/Historical/Crime crossover novel, in which pixies, demons, dragons, and vampires are real though few humans know that... Narrated by a wisecracking immortal that's worldly, noir, skeptical without bleak cynicism, and open to surprises; he's half Gilgamesh and half Raymond Chandler. I couldn't put it down!" Lori Hettler at
The Next Best Book Club
tried to sum it up with "Part science fiction fantasy, part action adventure and thriller, Gene Doucette creates the perfect balance of humor and edge-of-your-seat anticipation in this genre-defying story of an immortal man named Adam..." Now that we've talked about how to describe it (or how we can't describe it), how have readers been responding?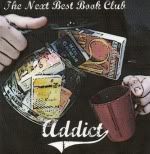 The first blogger review of
Immortal
was in August 2010 when
The Next Best Book Club
gave the book 5 out of 5 stars. "Witty sarcasm, quick quips, and an uncanny knack to self-preserve at all costs, our leading man quickly endears himself to you... Along the way we meet tricky iffrits, whimsical pixies, sexy vampires, and armored dragons as Adam finds himself on the run on more than one occasion, forced to battle demons and bounty hunters, while trying to uncover who is coming after him... A rapid fire, unrelenting wild rumpus of a ride - Immortal earned it's spot as the Next Best Book."
Wow! Who could ask for a better book review? Does it make you curious what Adam looks like? Rachael at
Enchanted by Books
was curious about that in July 2010 when she interviewed Gene, asking,
"Who would you have play Adam the Immortal in a movie?
" Gene responded, "Hah! That's a tough question. Adam looks thirty-two, so it would have to be an actor that could play that age. Both Robert Downey Junior and Johnny Depp project the kind of intelligence the role would need, but I don't think either of them can pull off thirty-two any more. Jeffrey Donovan from
Burn Notice
could probably do it." That would be an excellent casting choice.
I gave Immortal 5 out of 5 stars in my
September 2010 review on my personal blog
. I fell in love with the storytelling, the writing, and most especially Adam's voice. One of my favorite quotes from the first chapter is, "I was suicidal for two solid centuries once. That was during the early part of what they now call the Dark Ages, in medieval Europe. Suicidal tendencies were de rigueur at the time, and I'm nothing if not trendy." I closed with, "If there is a God, which is something that main character Adam sincerely doubts, then Mr. Doucette will write a series and get a TV show." PennyAsh from
Night Owl Paranormal
(who gave the book 4.75 out of 5 stars) made a similar statement, "...this book would make a great TV series. I know I'd watch every week." So someone call Jeffrey Donovan, we have his next project.
Tracy Riva of
The Pigeon Post
gave us some insight into how Adam's immortality plays into the way the story is told. "
Immortal,
generally speaking moves clearly and easily between the present, the past and the distant past. Recollections are vivid and seem as though they could in fact be the recounting actual historical events. The character has lived through some interesting times and events and his retelling of these stories, via memories, is lively and interesting." Topher gives us a little more in his review on
It Was Uphill Both Ways
, "The jumps in periods of time worked for me, which is saying a lot because it rarely does. It's especially fitting for this novel, since bits of Adam's long history begin to pop up in his current situation, and a lot of the flashbacks really explain how he's gotten to be where he is, why he reacts the way he does. I don't want to give away anything, but the novel is fast-paced and is much like a thriller or suspense."
Meghan Morrow contemplated
Immortal
in her review on the
Writers News Weekly
, musing, "Apart from his immortality, Doucette has created a relatable character for anyone who can't seem to find their right path. While Adam has taken every possible route a person can come up with, he is still no closer to finding what he desires." It is an interesting mental exercise to wonder if we would be any more satisfied even with thousands of years on hand. Gene and Adam make a good point - probably not.
Jennifer at
The Literary Soundtrack
talked to Gene about his musical preferences and what he listens to when he writes. Then she asked the character Adam HIS opinions on music. "My introduction to new musical sounds is always greeted with the following declaration: "Oh [current god]! What is that horrible noise!" It doesn't matter how lovely that music ends up being, to my ears, later: new rhythms, innovations, and instruments are always discordant and jarring the first time around. Understand, though, that the first thing I ever heard that I could call music was rhythmic drum beating, and that was perfectly good for a very long time, up until someone came up with a crude woodwind and complicated the hell out of everything."
Annikka Woods reviewed Immortal on
Books in the Woods
and also interviewed Adam on
Writing in the Woods
. Her review was 5 of 5 stars with the note "Holy crap, this is awesome and amazing!" In her interview of Adam she queries, "How have you coped with living for so long? Aside from drinking, I mean." Adam responds, "I don't know that it's something requiring an extra coping mechanism. Staying alive is sort of an instinctual thing, and in more ways than you might realize it's also a largely passive thing. Suicide-- and I've thought about it-- requires action, whereas continuing to exist generally doesn't. So in a lot of ways all I've done is decide not to get up off the couch."
Mary DeBerry interviewed Gene for Yahoo!
Associated Content
titling her article "New Novel Immortal Explores Vampires, Pixies, History, and a Man Who Lives Forever, Author Doucette Combines Fantasy, Sci-Fi, Comedy and Drama into One New Novel." She elicited some excellent writing advice from him, "the best advice I think I can give is to remember you're there to tell an entertaining story. That may sound simplistic, but I talk to a lot of writers, and believe me, this point can get lost."
Mary's review of the book
illustrates that Gene follows his own advice, "Although history is an important element in the story, Doucette does not fall victim to trying to cram every major event into one novel. Adam, the story's protagonist, sprinkles his wry observations of history here and there as appropriate."
And Lorna Suzuki's interview with Gene on
All Kinds of Writing
had some of the best news of all for fans. "The Immortal sequel is already written. It's called Hellenic Immortal, and I'm sure you will see it in the next five years. The research I described [before] is so that I can start working on the third Immortal book." That's so exciting!
If you haven't read
Immortal
yet we
recommend you order it now
. If you have already read it we hope that you want to read it all over again (like I do). Not sold yet?
Go check out the rest of the blog tour
.